Carol Nursery School is a non-profit, non-discriminatory, non-sectarian preschool for children from 2 ½ to 5 years old. Our governing body is all volunteer. In addition to tuition revenue, we rely on the generous support of current parents, alumni and community partners. CNS is always looking for parents to lend their expertise to our Board of Trustees and office staff. For more information, please contact us at carolnurseryschool@gmail.com.
Our Giving Tree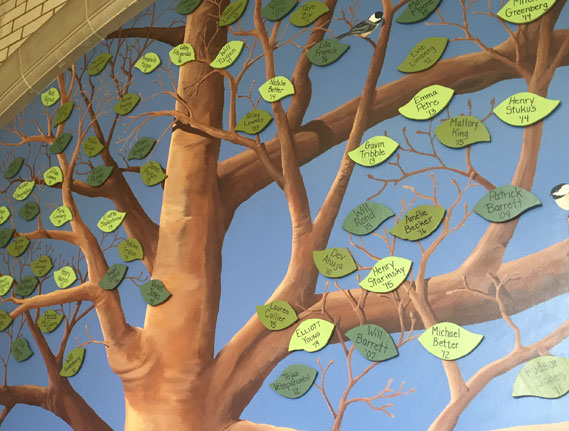 Grow With Us General Fund
Funds donated here may be used for general CNS purposes without specific restrictions as to their use.
Grads Give-Back Fund
As children graduate from CNS, families have the opportunity to donate to this fund which was established to assist other families in attending CNS. A mural of our Giving Tree graces our stairwell. A wooden leaf will hang on the Tree in honor of the donor with the child's name printed on it. With new donors every year, the tree continues to "grow" more leaves.
GET READY! Summer Outreach Program
This grant-funded program is specifically for children who have minimal to no preschool classroom experience. We offer a 5-week summer program designed to help 5 year old children transition to kindergarten by introducing them to the school experience before the fall.
---
Thank You For Supporting Us!
We accept all major credit cards and Paypal transactions for donations submitted online. Simply click on the links to choose your fund of choice. Carol Nursery School is a 501(c)(3) non-profit.
All donations are tax deductible to the extent allowed by law. A receipt can be provided by contacting the Carol Nursery School office.